System benefits include:
High-end data acquisition hand-held mobile solution
8 channels each capable of measuring seven popular parameters
Setup on every port makes it viable for all industries
Stand-alone operation: Display and keyboard for field programming and analysis (graph/table)
Rechargeable 7.2 V battery with over 500 charging cycles
High sampling rate – up to 4,000 samples/second (on Input 1 only)
Large data storage 512 KB RAM
Fast communication channels: USB
Multiple logging storage of up to 100 sampling sessions
Scales readings into meaningful engineering units e.g. bar, ppm
Built-in clock and calendar keeps track of time and date for each data recording
On screen text editing to annotate collected data
Truly Independent Data Acquisition in the Field
DaqPRO™ is battery operated and is capable of sampling, processing and displaying measurements without connecting to a computer. Designed to serve the needs of professional data loggers, DaqPRO™ is a professional, cost-effective, compact and stand-alone data logging system that can be used with a wide variety of applications. This 16-bit, high-resolution, eight-channel data logger offers the pros graphic displays and analysis functions for measuring voltage, current and temperature in real-time.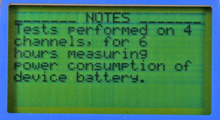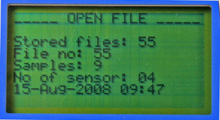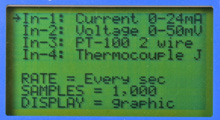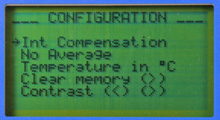 Accessories
Carrying case
NTC temperature probe
Solar cell and battery for field data logging
Weather box complies with the IP-67 standard for protecting DaqPRO™ while working in field applications
DaqPRO™ 5300 8-Input Channel Measurement
0 – 24 mA
Range 0 to 24 mA
Resolution 4.76 µA
Accuracy ±0.5%
Loop impedance 21Ω
0 – 50 mV
Range 0 to 50 mV
Resolution 3 µV
Accuracy ±0.5%
0 – 10 V
Range 0 to 10 V
Resolution 200 µV
Accuracy ±0.5%
Loop impedance 125 KΩ
Temperature NTC
NTC – 10/100KΩ resistor
Range -25 to 150 ºC
Resolution 0.05 ºC
Accuracy 0.5%
Temperature PT-100
Range -200 to 400 ºC
Resolution 0.1 ºC (7 mΩ)
Accuracy:
-200 to -50 ±0.5 %
50 to 400 ±0.5 %
-50 to 50 ±0.5 ºC
The DaqPRO™ offers up to eight PT-100 2-wire channels or four PT-100 3-wire channels
Temperature Thermocouple J
Range -200 to 1,200 ºC
Resolution 0.1ºC (1 µV)
Accuracy:
-200 to -50 ±0.5%
50 to 1,200 ±0.5%
-50 to 50 ±0.5ºC
Cold junction compensation error: ±0.3 ºC
Temperature Thermocouple K
Range -250 to 1200 ºC
Resolution 0.1ºC (1 µV)
Accuracy:
-250 to -50 ±0.5%
50 to 1,200 ±0.5%
-50 to 50 ±0.5ºC
Cold junction compensation error ±0.3 ºC
Temperature Thermocouple T
Range -200 to 400 ºC
Resolution 0.1 ºC (1 µV)
Accuracy:
-200 to -50 ±0.5%
50 to 400 ±0.5%
-50 to 50 ±0.5ºC
Cold junction compensation error ±0.3 ºC
Internal Temperature
Range -25 to 70 ºC
Resolution 0.1ºC (1μV)
Accuracy ±0.3ºC
Pulse Counter (Input 1 only)
Optocoupler input Range: 0-65,000
Input signal: 0-5 V
Input impedance: 470Ω
Bandwidth: 0-25 Hz
Frequency Meter (Input 1 only)
Optocoupler input Range: 20-4,000 Hz
Input signal: 0-5 V
Input impedance: 470Ω